It is easy to lead.....poorly. While leadership content is easy to understand, implementing leadership concepts can be extremely challenging and, unfortunately, too difficult for some.
We all know leadership is hard—rewarding, but hard. However, leadership in a Third World country is more difficult than we can even imagine as part of the Western world. Issues caused by systemic poverty provide challenges at every turn. Lack of education, infrastructure, and empowerment can breed hopelessness and doubt that things can ever be different.
But leadership springs up in unlikely places through unlikely people. It turns out you don't have to have a degree in Leadership Development to effect change in this world. You can grow up scavenging in the city's garbage dump and still find your voice and have a vision to change things. That's just what my friends, Yemamu Ahmed and Sisay Teni, have done. Since our first meeting in 2010, when I went to bring my adopted son home from Ethiopia, I have been impressed with their desire to make a difference in the lives of the people most vulnerable living in their community. When I returned recently to Ethiopia to spend two weeks with their organization, I was especially pleased to find The Five Practices very much alive and well.
Yemamu and Sisay grew up in a leper colony called Korah (meaning "cursed"), which sits on a garbage dump in Ethiopia's capital city, Addis Ababa. Yemamu's mother has lost her leg and his father most of his eyesight due to leprosy. Sisay lost his father to the disease at a young age, leaving his widowed mother to care for him and his siblings with no means of income. In order to help sustain their families, Yemamu and Sisay spent their days and nights scavenging in the city's garbage dump for food or for metals and plastics they could sell for a small amount of money. They did this for years until someone sponsored them to go to school.
Now, they are giving back to the community they grew up in.
Where does one start to effect change when looking at a 100,000 person community that is barely surviving, whose members have been labeled as outcasts in their society: the poor, those living with HIV, the uneducated, diseased, and homeless? How do you Inspire a Shared Vision when no one wants to be inspired or feels there's nothing to be inspired about? In the case of Yemamu and Sisay, you Model the Way until people catch the vision and see the potential for change.
Yemamu knew what it was like to be hungry. And having identified the need, he put together a business plan for a center that would feed some of the most vulnerable children in Korah and applied for a NGO (non-government organization) status. He knew that hunger impacted so many other facets of a child's life. A hungry child is often weak and tired, making it extremely difficult to focus on school and learning. For children who are HIV+, it is crucial that their ARV drugs are taken with food in order for their bodies to absorb the medication.
As Yemamu began to seek out children who met the criteria for the program, he started where for him it all began: back at the garbage dump.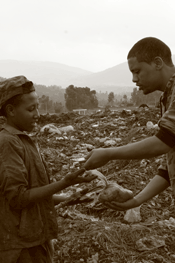 From the start, Yemamu established credibility with the children by seeking them out, coming to them in a place where no one else wanted to go—the 'messy' places of leadership, so to speak. Because of Yemamu's years at the garbage dump, they responded to him and willingly came with us to the Center to be registered for the program. Since then, others have accompanied Yemamu, to visit the children and create relationships with them. And as Yemamu and Sisay have invested in people and exposed them to the vision, they have become engaged, willing participants in changing the future for these children.
One of the things I've always loved about The Five Practices model is how interconnected each of the practices are. When one is implemented, there seems to be a natural progression into the others. For example, as Yemamu began to truly Encourage the Hearts of the people he wanted to lead and to Modeled the Way for them, his actions inspired others to believe that the vision of improving the community was possible. And once they saw the possibility, Yemamu could Enable Others to Act.
Others became engaged once they received encouragement from Yemamu. It all started there. People wanted to know that they were cared about. One striking example of what I observed was Yemamu's relationship with one particular family. We met a mother with five children who had recently lost her husband—a blind man who earned money begging on the streets to feed his family. Over a year ago, her 17-year-old daughter, Etanaite, was raped and bore a child as a result. Due to the stigma associated with rape in this area of Ethiopia, the entire family was outcast. No one spoke to them, helped them, or cared about them. Having heard of this family's struggles, Yemamu went to meet them to see if he could help (there it is...Encouraging the Heart). The family was incredulous that anyone would be concerned about their well-being.
When I accompanied Yemamu on a visit to the family, their living conditions were unimaginable. Seven people lived in a 6' x 8' room, with one single make-shift bed.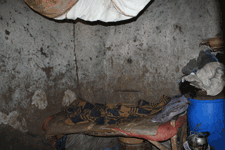 The baby was drinking out of a bottle that had been found in the garbage dump. The mother was wearing rags. And the now 18-year-old Etanaite was commuting daily to work in the countryside earning $26 a month—half of which went toward her long transportation to work. The rest of her income paid the rent. Nothing was left for food.
Yemamu and Sisay continued to visit the family. They enrolled the children in the feeding program and helped Etanaite see that despite the tragedy of her rape, there was reason to hope. She truly could have a future. They offered her a job cooking and cleaning at the Center, paying her twice what she was making before. Etanaite now can provide more for her family and contribute in a meaningful way by giving back to her own community. And her mother will no longer have to go scavenging in the garbage dump to make ends meet. Yemamu and Sisay gave Etanaite an opportunity for work that will literally transform her life and the lives of her family members. They also gave her something else: they fully engaged her in the possibilities for the future and enabled her to act.
In just two short weeks in Ethiopia, there were hundreds of examples of The Five Practices in action. Maybe not in the traditional business settings we are accustomed to but, rather, in the city garbage dump, the small homes of the socially outcast, and on the streets of Addis Ababa. It was a privilege to watch the humility with which Yemamu and Sisay led the people in their community toward hope. Children's very livelihoods and futures are being forever changed because two young men are willing to go where no one wants to go and to do the hard work of helping people see that there is another way—that poverty does not have to define them. Talk about inspiring!
Amy Savage is Principal at Fine Points Professionals LTD, a Leadership Challenge® Authorized Service Provider. In addition to her professional work, Amy enjoys using her voice to advocate for vulnerable children in Africa. If you'd like to encourage the hearts of the two young men featured in this article and support them in their leadership journey to help feed, educate, and train the 60 children in their program, feel free to contact her at amythesavage@gmail.com.