Our point of view is simple, really.
We believe Leadership is Everyone's Business!
What do we mean by that? In today's world there are countless opportunities to make a difference. And more than ever there is a need for people of all ages, from all backgrounds, with all types of life experience to seize those opportunities that lead to greatness.
The Leadership Challenge is about how leaders mobilize others to want to get extraordinary things done. It's about the practices leaders use to transform values into actions, visions into realities, obstacles into innovations, separateness into solidarity, and risks into rewards. It's about a climate in which people turn challenging opportunities into remarkable successes.
We're happy you're here and we hope this video will be a helpful tool as you begin...or continue...your leadership journey.
EXAMPLES OF THE FIVE PRACTICES MODEL THE WAY: "Leaders like Sahira, they tend to focus on values ...and she has got one of the strongest work ethics I've ever seen."
INSPIRE A SHARED VISION: "She showed us the vision that she had. She showed us the opportunity that Municipal Courts had in order to be seen differently to the public."
CHALLENGE THE PROCESS: "She cross-trained all of them, then went to the City Council and she was able to get pay raises due to the fact that they were more qualified."
ENABLE OTHERS TO ACT: "She told me what she wanted. Then her next question was "What do I need to do for you to make that happen?"
ENCOURAGE THE HEART: "She holds us at a high rate of excellence, but . . . she makes you feel very comfortable."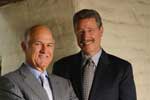 Authors of The Leadership Challenge.