Have you ever been in a work environment where you heard someone say, "That's not my job!" Or perhaps, you wanted to say it yourself. Sometimes restrictions are placed on us by employers and sometimes we are content to stay inside a self-imposed "assumed" role and never venture out to see what lies beyond.
As owners of Fine Points Professionals, we have worked with the Leadership Practices Inventory (LPI) since 1997 and in 2004 started our present business, an Authorized Service Center for The Leadership Challenge® Workshop. We have grown passionate about the LPI and The Five Practices of Exemplary Leadership®. Now, we specialize in administrating the LPI. Our initial business vision included three goals: 1) to provide stellar service to our clients, 2) for us and our employees to be blessed by the growth of our company, and 3) to look outwardly for sharing those blessings with others.
Which brings us back to "that's not my job"! In the fall of 2006 we brainstormed whether an LPI administration company could actually promote and present—free-of-charge—a public Leadership Challenge® Workshop to non-profit groups and public servants in our community. Could we challenge the process we had established for ourselves and produce the whole pie instead of one piece of it? We were now motivated to find a location, a facilitator (our good friend and Master Facilitator Steve Houchin), and fill the seats with people who really wanted to be there, but couldn't afford to attend under other circumstances.
That's when "not my job" became "let's do it!" and, eventually, the vision became reality. Gathered in a meeting room were fire fighters, police officers, clergy, professors, community center directors, teachers, missionaries, city officials—most of them from jobs where they serve their communities and fellow citizens. At Fine Points, we had attempted to expose these types of leaders to The Five Practices in the past, but felt like money was always the proverbial brick wall for them. To finally see 22 people who give of themselves selflessly on a daily basis learn about leadership was truly a dream come true for us.
A common practice at the workshop is to provide participants a choice of fun toys/rewards to use creatively to acknowledge people for something they've done. The first afternoon a woman presented us with a mini basketball hoop and ball and said "If this afternoon is anything like this morning, you've made a slam dunk." Inside, we breathed a huge sigh of relief—YES! Finally, we had received the sort of response for which we had been hoping. More comments followed after Day 2:
"The LPI was a wonderful way to hear helpful and constructive criticism in a non-threatening and yet honest way."
"To be honest, this was one of the most practical approaches to leadership. It was fantastic and enlightening."
"It's the best leadership seminar I have ever experienced."
The participants engaged in learning and for many it was life changing. Fire fighters went back to work with a renewed sense of team building and appreciation for their counterparts in the police force. Teachers returned to their troubled school districts with new ideas of how to enable parents to be more involved and more positive influences in their childrens' lives. Clergy went back to their places of worship inspired to take further action to encourage their parishioners. Community leaders returned to their organizations with a renewed desire to help their communities engage with each other to solve problems. For all of these people, change had occurred.
Whatever sacrifices we made as a company—financial resources, time, energy—were immediately worth it. It is interesting to realize that when we push ourselves to do something that is somewhat uncomfortable or unknown, we end up feeling empowered. For Fine Points Professionals, "that's not my job" has changed to "let's do it!" And for all of those who attended the workshop, we strongly hope that they will have the courage to venture out of their self-imposed "assumed" roles as well, and impact those around them in a positive way.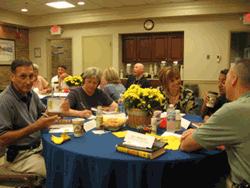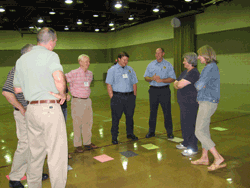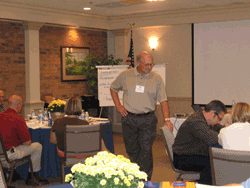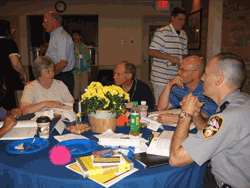 Amy Savage, Carol Wolper and Cheryl Boys are co-founders and owners of Fine Points Professionals, Ltd. The Leadership Challenge Authorized service provider for administration of The Leadership Challenge® Workshop. For more information, visit www.finepointsprofessionals.com.